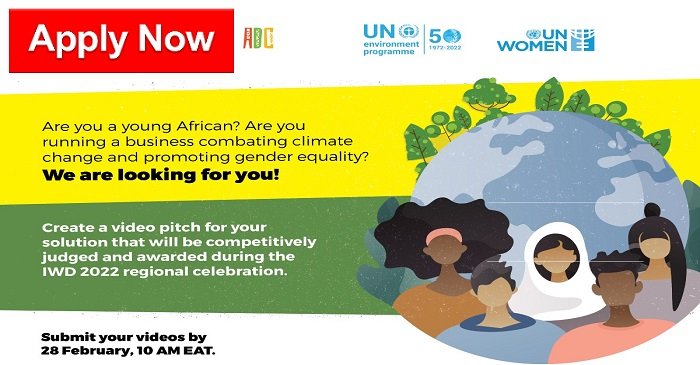 Are you between 18 and 35 years old?
Are you running a business (profitable or social enterprise) that is combating climate change?
Is your business either a women-owned enterprise or promoting gender equality?
Has your business been operating for more than 6 months?
Do you live in Africa?
If you can answer all these questions with yes, then we want to hear from you! Take part in our video challenge!
Before February 28th, 10:00 AM East African Time, submit a video of 2 minutes or less, and tell us about your great enterprise highlighting how you are combating climate change and how you are promoting gender equality!
How to Stop Missing Deadlines? Follow our Facebook Page and Twitter !-Jobs, internships, scholarships, Conferences, Trainings are published every day!
Background
This year's International Women's Day, UN Women, UNEP and Microsoft Africa Development Center (MADC) are keen to ensure that the voices of young women and men entrepreneurs working in the green economy in Africa are heard, as we reflect on the theme of "Gender Equality Today for a Sustainable Tomorrow". Simultaneously ensuring that innovations and social enterprises run by young women and young men in Africa region are showcased to a wide audience of potential partners and collaborators – to fuel climate action that is also profitable.
In this vein, UN Women and UNEP, in collaboration with MADC, are organizing a showcasing event for young African women and men entrepreneurs to commemorate this year's International Women's Day. The event will provide a platform to showcase their work, share ideas, experiences and innovative approaches for effectively running profitable enterprises fueled on a need to mitigate climate change or adapt to the changing climate, while encouraging gender equality.
The initiative aims to showcase the powerful work of young women and young men mitigating the escalating climatic and environmental crises in the region while promoting gender equality. It will recognize up to 10 African youth voices from across the continent who are creating and advocating for effective, lasting, and transformative charge and amplifying the interdependency of gender and the environment in building a more sustainable future for all. The 10 best 2-minute videos will be played during an event on 8 March, during the International Women's Day, and promoted on social media channels of all organizers.
Technical tips to make your video more likely to be picked:
– Find a quiet place to record – outside is fine if there is no traffic, construction or wind noise.
– Check to ensure your device is recording at 1920×1080 or higher
– Place your phone on a stable surface to record or hold your device as steady as possible.
– Make sure your phone is horizontal, and that your face is lit from the front, not the back.
– Look directly at the camera, speak with energy and show your personality!
– Use your creativity to show as you tell.
– Keep your video to two minutes or less.
Videos can be submitted in English, Portuguese, French, Swahili, or Arabic.
Upload your videos at this link by February 28th 10am, East African Time.
If Dropbox does not work for you, you can use WeTransfer and send the file to james.ochweri@unwomen.org.
Any questions? Contact Michael at michael.faraday@unwomen.org
For more information please open this link
Apply Here
https://africa.unwomen.org/en/stories/announcement/2022/02/from-passion-to-profit-video-challenge?fbclid=IwAR0tl5yKvqm2MUfa6k1lgmfgCrasi9xvAIgosOlN__gVYoW2QZmO5Ts_PBY